The "Legacy" CD
Make sure to subscribe to the Blog for updates, or
click here to grab your copy of "Legacy"!
Legacy is my 12th collection of works, and it is my 7th major commercial release (following Servant, Angst, The Collection, SonicLogos, Captive, and Captive: Live).  I've also produced 6 other private releases.
This extensive compilation CD features 17 original songs, 3 of which stem from the ill-fated sophomore effort, Life, which never really saw the light of day.  These songs are Fly, Enough For Me and To Know You.  While demo recordings were originally made of these rehearsal tracks, they were never fully realized...until I met Maxwell Gaver.
Lead singer of Oly and fellow member of my church, Max really helped breathe life into these new recordings and give birth to some truly reverent and rocking renditions.  You will NOT BELIEVE the background vocals and production he put into "Fly."
Then, making the handoff to longtime friend, bandmate and producer Paul Racey, we took them to the studio to track vocals and finalize production.
Legacy was released on April 16th digitally, and on April 26th 2023 in CD form, in time for my 50th birthday.  (Yes, I am old.)
---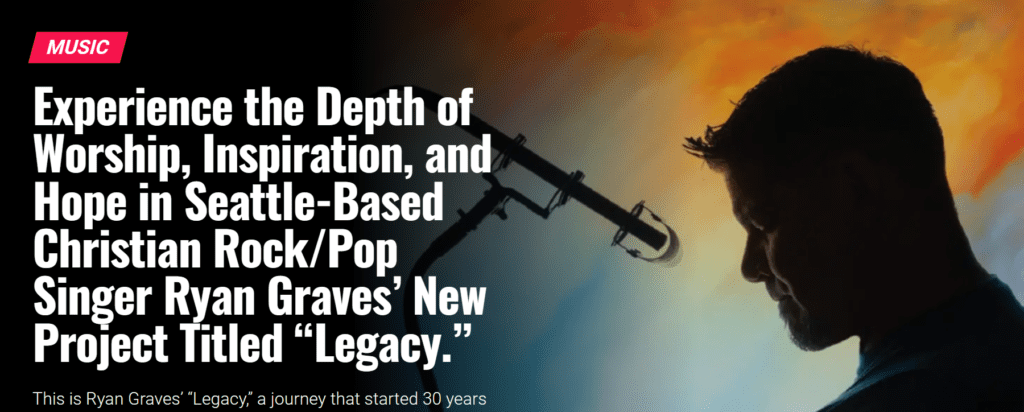 CHECK OUT THE GREAT WRITE-UP!
SUCH a flattering article! Thank you SO much to Delvin and for the super gracious and wonderful write-up on "Legacy." I deeply appreciate it.
Check it out here!
---

An amazing write-up by Reyt Good Magazine: the best place to find brand new grassroots music with 20 years of history being in and around the music industry.  Thank you Carl and Lacey and the team!
---
And read this fantastic review from Jamsphere...and this one from ChristianDance!
---