Reviews
Here's what people are saying about Ryan's music and concerts: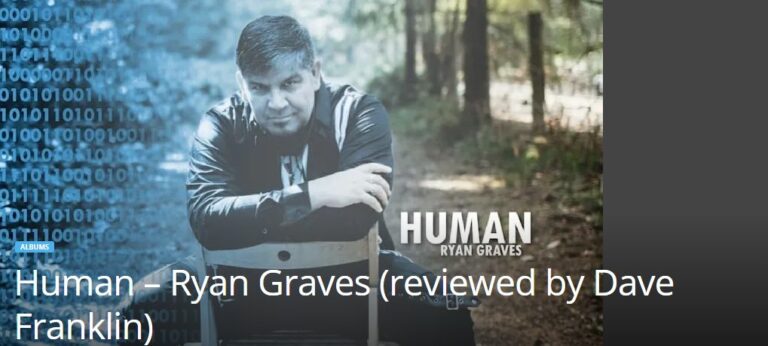 ---

---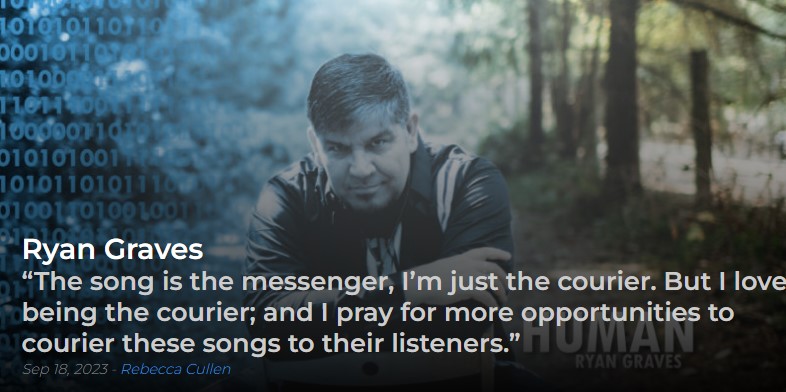 ---

---
---
---

---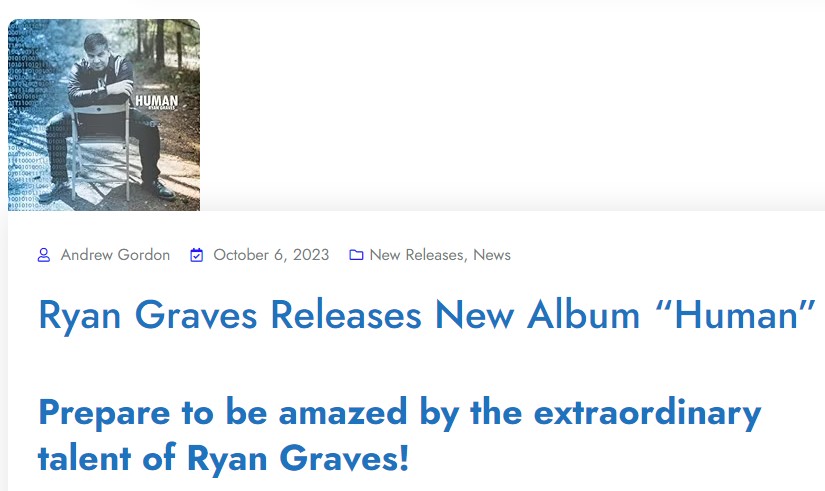 ---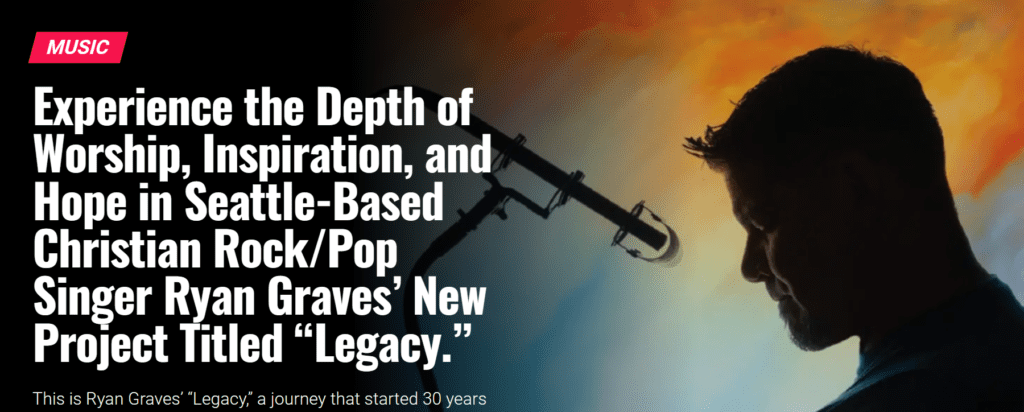 ---

---
---
Concert & Performance Reviews:
"Ryan Graves and his band are so great! We hosted a community event at South Lakeshore Christian Church in Tacoma on August 26th. Ryan was fabulous to communicate with, very personable and understanding of our church's needs. The band was there from about 9AM to 3PM with all of the set up and clean up and practicing. Everyone was incredibly professional! The music was fantastic! They did not charge us anything, only requested to sell their merchandise at the end of the concert. Even though our event was free, these guys would be more than worth an admission fee. I hope to continue our connection with these gentlemen for future events! The music is a mix of rock and pop. Ryan delivers powerful vocals and good humor throughout. The accompanying players are skilled musicians and accompany Ryan well. God has gifted them musically, but their hearts for him are on display on the stage. The lyrics are deep and thoughtful (not a bunch of O's and Ah's like half of current Christian songs on the radio). It is apparent that they are up there to glorify the name of Jesus and not their own. If anyone out there is interested in hosting a musical guest, get a hold of Ryan Graves. I cannot recommend them enough!"
- Michael Olive, South Lakeshore Christian Church
"If it wasn't for the stress of doing the live show, I know that I would have broken into tears at many of the songs on stage just because of the content of Ryan's lyrics, their meaning in my own life, and the journey we went through to make this happen. Especially "Embrace" which depicts a person's anguish at imprisoning themselves by their actions, and yet God is right there saying: 'This cell is NOT what you think it is. Open your eyes and drink it in. This pensive garden - a sanctity. The chance to start over for you and me.'  Part of the beauty of finding out who we are IN Christ, is finding out who we are OUT OF Christ.  It took close to 6 months for Ryan to convince me to do this, and a year plus of work to bring it about. I'd do it again in a heart beat."
- Paul Racey, Producer
"Just wanted to say thank you so much for having me be part of an incredible night!!  Your music is so deeply honest and confessional in such a way that the listener is so captivated by your lyrics and sincerity, not to mention the incredible arrangements and your frickin' amazing voice!  After listening to you tonight I started realizing how influential your vocal stylings have been and are to me.  What you do with your voice is so uniquely you and it is and was (in junior high) so inspiring and empowering to me as someone who was beginning to find my voice and who now hears the years of singing and work your voice showcases.  Your bravery to claim redemption amidst adversity and taboo is so powerful!  As my dad said tonight, the kingdom of God is made more complete with you involved.  Your song, Mama, was so incredible and so real, I was on the edge of my seat. Tonight was an incredible experience for me - to see your set once again after so many years and realize the gift that you gave me as a student learning to play music through your professionalism and encouragement is so priceless and one of the more prominent blessings in my life.  The way you encourage folks and offer yourself as such a servant (pun intended:) to everyone is inspiring and I think it really gave me some amazing confidence early on, when I needed it most.  I hope and pray more and more blessings on you and thank you again for being such an encouraging individual and such a remarkable performer!  You're such a huge blessing!  Thank you, again my friend!"
- Johanna Chase
"Hey!!!!!!!!!  Ok....the truth of the matter is, I am STILL STUNNED AND UTTERLY AMAZED (NO JOKE!!!!) AND IN TOTAL AWE OF YOU EVER SINCE THAT CONCERT FRIDAY NIGHT!!!!!!!!!!!!!!!!!!!!!!!!!!!!!!!!!!!!!  I seriously, don't know if  feel worthy of being in the same room with you, sipping lattes, or what have you...let alone, KNOWING YOU AND CALLING YOU A GOOD FRIEND!!!!!!!!!!!!!!!!!!!!!!!!!!  Seriously, Ry....you are absolutely unbelievably incredibly amazingly awesome.... I mean that from the bottom of my heart!  You are QUITE a performer, singer, songwriter!!!!!!!!!!!!!  I really can't emphasize enough just how royally impressed I was throughout that entire concert.  You have MUCH to be proud of and should feel very very blessed.  You are incredible!!!!!!!!!!!!!!!!!!!!!!!! OH MY GOSH..NEVER EVER SEEN SUCH AN AMAZING LIGHT SHOW BEFORE, except at BIG concerts in huge venues!!!!!!!!!!!!!!!  WOW!  WOW! WOW!!!!!"
- Diane Kulp
"Ryan, I was stunned by the concert! "Glory to God" is RIGHT!!! Right away, from the lights and sound and whole set-up I could tell you were committed and going all out! And Dang, you can SING!! Your voice is BEAUTIFUL, and the falsetto was amazing!!!  But what touched my most were your lyrics, Man Alive... I loved that part that was something like, "The backwards plan of the Son of Man has made fools of us all". And then on that 'snowflake' forgiveness song, you made me cry! Even just the imagery of you standing on stage with your arms outstretched, singing to your Savior... powerful!   THEN... "Mama"!!!! I was sitting in the cry room in the back holding my daughter, BAWLING MY EYES OUT!!! I was seriously crying and sobbing! What a beautiful story and tribute! Something like... "I messed up, I got locked up... I've done the worst, I've come undone... I guess your dreams for your little boy are shattered... How can you love me this way- It's the love of Jesus Christ..." WOW!!! Listening to that all, and knowing more of your personal story was just incredible... Your redemption and your relationship with Christ and your testimony, and your heart and passion now, and your commitment and huge love for Jesus and selflessness in your music is amazing. I was truly worshipping last night, and I think that says a lot!  WELL DONE, Ryan, seriously! It was a delight, and a memorable experience being there, and I've got the CD! ;-)"
- Davy Goetze
I had to tell you how wonderful the concert was last night and how much we enjoyed it!!!  You are amazing and I know that God is not done with you yet.  Definitely not a farewell concert!!!  Just so you know, we are playing your CD right now and my 2 youngest are doing the "Macarena" to Minoxidil.  It's kinda slow for the Macarena but it works!!!  Keep up the good work, Ryan!
 - Tracie Burck
"Your concert pictures are terrific.  Wow.  you have quite the lighting expertise.  I also liked the few costume changes (but not so many as to be mistaken for a Tina Turner concert)!  Good plan. =)  Your facial expressions and understated gesturing comes across very well.  When you go into your head voice during the chorus, it sounds like this aching cry.  Indeed, you seemed close to tears at the line -"all the voices calling from the soil".  It's a gorgeous song that you also made visually very moving.  You come across as an ambassador of sorrow, grief, pride and hope of that day.  Really, really well done, Ryan....it's a tender, stirring journey you take with your audience.  I hope you are very proud of this work."
- Janine Wilson (Ryan's future wife!)